Istnienie "kryzysowych aktorów" zostało zauważone po zamachu bombowym w Bostonie, kiedy urywek materiału filmowego puszczony na żywo w lokalnej Bostońskiej telewizji pokazujący relacje "z ulicy" został przeanalizowany i odkryto, że niektóre osoby które wypowiadały się na miejscu zamachu były również obecne na miejscu karygodnego "oblężenia" w Watertown, Massachusetts.
Zapewne pamiętacie ubranych w kamizelki kuloodporne agentów Departamentu Bezpieczeństwa Krajowego Stanów Zjednoczonych (DHS) oraz delegowaną przez rząd federalny Stanową Policję Massachusetts i Bostońska Policję, poruszające się miejskimi wozami opancerzonymi BearCat (czyli czołgami), systematycznie wyłamującymi drzwi domów niewinnych obywateli i wyciągającymi ich na ulice, wymachując przy tym bronią.
Tego typu usługi są oficjalnie zapewniane przez aktorów zatrudnianych przez firmy takie jak Visionbox CrisisActors
Kryzysowi Aktorzy Visionbox są "agencją talentów" dla aktorów, która mieści się w Denver w stanie Kolorado, która opisuje swoją działalność jako:
" … projekt Colorado Nonprofit Development Center [Nonprofit Centrum Rozwoju Stanu Kolorado]. Kryzysowi Aktorzy to projekt Colorado Safety Task Force [Sił Bezpieczeńśtwa Colorado] założony przez senatora stanu Kolorado Steve'a Kinga."

Zamierzona działalność tej instytucji ustalona pod koniec 2012 roku to szkolenie aktorów, którzy mieli pomagać profesjonalnym funkcjonariuszom prawa w różnych akcjach treningowych, poprzez odgrywanie zwyczajnych obywateli podczas sytuacji kryzysowych, takich jak strzelaniny w centrach handlowych, etc.
Materiał filmowy z zamachów podczas maratonu w Bostonie i późniejsze zbrojne oblężenie Watertown wewnątrz kraju (z definicji nielegalne) pokazały, że ci kryzysowi aktorzy "pozostawali dalej w swoich rolach" i odgrywali je według napisanego dla nich wcześniej scenariusza przed kamerami telewizji. A potem odgrywali je dalej online, na stronach internetowych mediów społecznych lub poprzez wysyłanie maili do osób zamieszczających publikacje online.
Tak wygląda ich praca, która jest opłacana przez różne organizacje rządowe, maskujące się jako organizacje pozarządowe.

Jak można było przeczytać na stronie internetowej Visionbox w grudniu 2012 roku:
"Kryzysowi Aktorzy mogą także odgrywać role obywateli dzwoniących na numer alarmowy oraz pracowników centrów handlowych, lub zamieszczać komentarze na stronach mediów społecznościowych."
Długo trwały spekulacje mówiące, że przynajmniej kilkoro z tych "kryzysowych aktorów" siejących dezinformację dostało się do relacji telewizyjnych podczas zamachu na World Trade Center 9/11.
Obecnie znamy nazwę jednej z tych organizacji opłacanych przez rząd, która trenuje i płaci za takie czynności aktorom: Visionbox CrisisActors.
Co więcej, strona Visionbox mówi:
"Materiały filmowe z kamer ochrony są edytowane/preparowane do późniejszych raportów i przyszłych celów treningowych."
Założę się, że ta Organizacja Pozarządowa chętnie edytuje materiały filmowe "prawdziwych" wydarzeń i przekazuje je za darmo różnym stacjom TV, które cieszą się, że mogą zaoszczędzić pieniądze, w których występują Kryzysowi Aktorzy pracujący w Visionbox – zarabiający poprzez granie ofiar lub świadków podczas różnych operacji pod fałszywą flagą nagrywanych, aby przekazywać je dalej stacjom telewizyjnym, które mogą się nie domyślać tego, że są one spreparowane oraz to, że propagują fałszywe materiały lub bardziej charytatywnie jako współdziałające w Psychologicznych Operacji [PsyOps].
Czy wiedziałeś, że osoby z amputowanymi kończynami są kryzysowymi aktorami?
Obudziłem się dziś rano i oglądałem poranne wiadomości wall-to-wall TV, oglądam o dzisiejszym Maratonie Bostońskim i zeszłorocznym zamachu.
Przypomniało mi to coś, co miałem opisać w tamtym roku :
Kryzysowi Aktorzy z amputowanymi kończynami
Tak. Nie tylko są profesjonalnymi "kryzysowymi aktorami" wykorzystywanymi w rządowym warunkowaniu (tresurze) oraz masowych traumatycznych wydarzeniach, niektórzy z nich rzeczywiście mają amputowane kończyny!
Przykładem jest organizacja zwana Amputees in Action (Osoby po amputacji w akcji), która określa się jako :
"Wyjątkowa agencja pracy, pracujemy niezależnie w celu zapewnienia największego katalogu w Wielkiej Brytanii wyszkolonych profesjonalnych aktorów filmowych po amputacjach kończyn do kinematografii, przemysłu filmowego, symulacji sytuacji awaryjnych oraz szkoleń wojskowych, zarówno w kraju jak i za granicą .

Nasi pracownicy wykorzystują swoje osobiste doświadczenia traumy w celu umożliwienia graficznego realizmu, który nie ma sobie równych, a nasz zespół od efektów specjalnych (SFX), charakteryzacji, sporządzania odlewów gipsowych i artyści protetyczni w scenariuszach używa najnowocześniejszych technologii w celu wzmocnienia i rozszerzenia wyglądu i funkcji utraconych-kończyn".
Na stronie Amputees in Action w zakładce " Emergency Services (Usługi awaryjne)" pisze:
Większość naszych pracowników straciło kończyny jako bezpośredni skutek traumatycznych wypadków i są w stanie przenieść ich własne doświadczenia do symulacji z wyjątkową wnikliwością, pozostając w granej roli. [ … ] Nasi eksperci od efektów specjalnych zwiększają doświadczenia amputacji, replikując obrażenia poza urazami nóg i ramion. Odtwarzamy również urazy głowy i rany na twarzy, wypatroszenia brzucha i rany pachwin.
https://www.linkedin.com/company/amputees-in-action-ltd/
A wszystko to oczywiście w interesie naszego Bezpieczeństwa Narodowego!

Cytując emerytowanego pułkownika marynarki wojennej Petera Martino, którego wypowiedź przesłałem kilka dni temu z publicznych obrad rady miejskiej miasta Concord w New Hampshire, które odbyły się w listopadzie 2013 roku:
"To co się dzieje to budowanie wewnętrznej (krajowej) siły militarnej, ponieważ to niezgodne z prawem i konstytucją, aby używać Amerykańskich oddziałów wojskowych na amerykańskiej ziemi…Widziałem zdjęcie w Boston Globe po zamachach w czasie maratonu, a na nim policjant, a właściwie dwóch, mający na sobie identyczny kask, kurtkę, broń i wszystko to co ja miałem na sobie w Iraku – tylko że niebieskie.Jeden z tych policjantów miał na plecach napis: "Massachusetts State Police (Policja Stanowa Massachusetts)", a ten obok niego: "Boston Police (Bostońska Policja)."Tak więc nie oszukujmy się – to co się dzieje obecnie to budowanie wewnętrznej armii i rozszerzamy ją ponieważ rząd boi się własnych obywateli"."- emerytowany pułkownik marynarki wojennej Peter Martino
Tak więc ludzie, przestańcie uważać telewizje głównego nurtu za wartościową.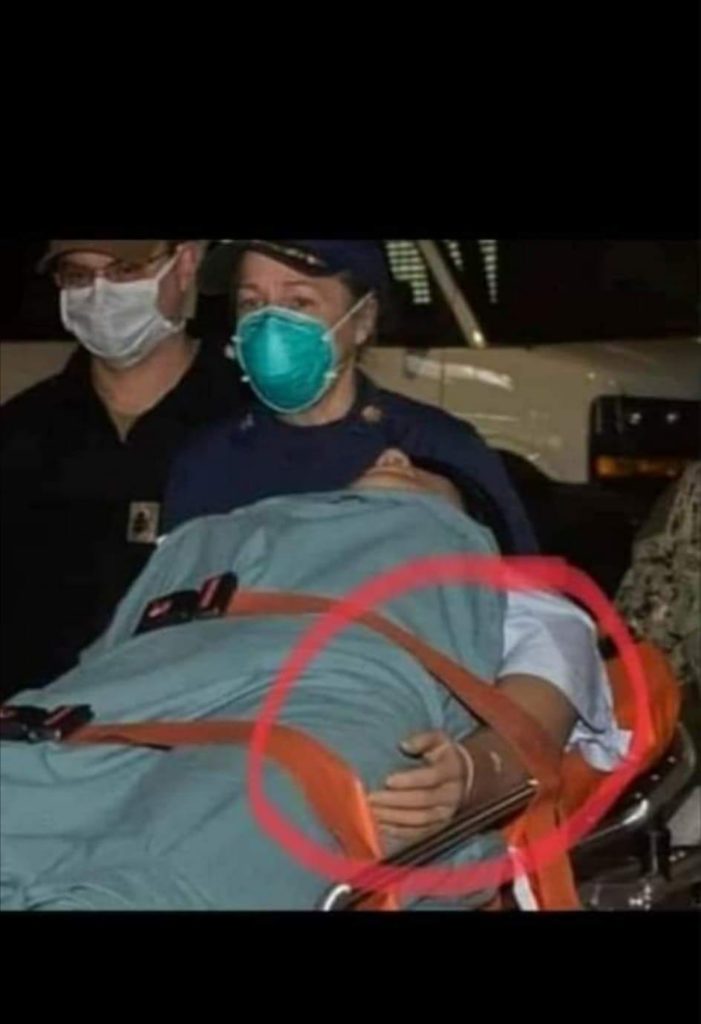 Widać że przy obecnej pandemii braknie już aktorów i pozostają manekiny !!!